We catch up with Ryan Hodder to discuss his journey in the sport science industry over the last decade including his time in Netball, with Tennis Australia and Victoria University. His technical nous and ability to explain the importance of sport science and how up and coming sport scientists and analysts can standout means you'll find it an engaging read regardless of what stage you are in your career!
Tell us about your background
I completed a Bachelors of Sport Science and Masters of High Performance Sport at Australian Catholic University, while also doing a number of performance analysis/sport science internships at Tennis Australia and Sandringham Dragons NAB League Football Club. I was then able to get a traineeship position at the Victorian Institute of Sport. This combined a research project with applied performance analysis experience across a number of sports including netball, hockey, swimming and clay shooting. This finally led me to doing a PhD at Victoria University with an applied GPS Analyst role at Melbourne Vixens Netball Club.
Tell us about your area of focus in your PhD?
My PhD is focusing on the exploration of tactical variables in netball, using player tracking technology. Specifically using the Catapult Local Positioning System, we can get the location of players on the court, which we use to create tactical variables. These tactical variables summarise the interactions between players and their collective behaviours, and include variables such as:
Inter-Player Distance, how far apart players are
Width and length of a team, looking at the formations of a team
Stretch Index, how dispersed or clustered a team is
Synchronization of players, identifying if players are moving in sync with one another
You've worked with Tennis Australia, Netball franchises and Victoria University – tell us about the key differences of working at a university and a high performance sporting environment?
The main difference is the time component on projects. In a high performance sporting environment, you are looking at weekly turnarounds, whether that be opposition scouting, load monitoring or other smaller projects. While in a university, you can look at bigger picture projects that look at longer term trends and which require longer periods of analysis. These projects are usually not possible with the shorter turnaround times in high performance sporting environments.
With the current lull in the sporting industry, typical internship and experience may be hard to come by. So look at completing sports analytics projects by grabbing a freely available dataset online and answering a question or problem that interests you.
It's been almost ten years since you started your journey in sport science with your Bachelor's Degree – what have been some of the main areas the industry has evolved in over that time?
Definitely the ability to analyse data more efficiently, with the use of computer science and software automation. When I first started, the use of Microsoft Excel was the dominant software; now analysts are progressively moving a lot of their projects and processes over to data science programs like R and Python.
What were some of the most exciting aspects of working with Netball Victoria and the Melbourne Vixens?
I was lucky to be involved with a number of successful teams including the Victorian Fury and 19/U Victoria State teams. Both these roles included teams playing up to twice a day. This required fast turnaround times on analysis' and working between analysts, coaches, players, S&C and physio to be super-efficient. While this was hectic, it was also very rewarding.
Talk us through a piece of analysis you've done before
I recently published my first study of my PhD, which validated the use of Catapult ClearSky T6 Local Positioning System for measuring inter-unit distance. I had to sync up tracking dataset from Catapult and Vicon Motion Capture System and calculate inter-player distance.
https://www.mdpi.com/1424-8220/20/13/3693
Here are a few other analysis projects I have worked on below:
Offensive vs Defensive Rating
Looking at offensive and defensive ratings of netball teams in the Suncorp Super Netball League. Offensive ratings are based on the efficiency of scoring, which takes into account how many goals you score by the amount of possessions you have. While defensive ratings is the efficiency you allow your opponents. We can then take the league average (dotted lines) to split between good and bad ratings. You start to see where different teams strengths and weaknesses lie, and see the high quality teams in the bottom right have both good offense and defence.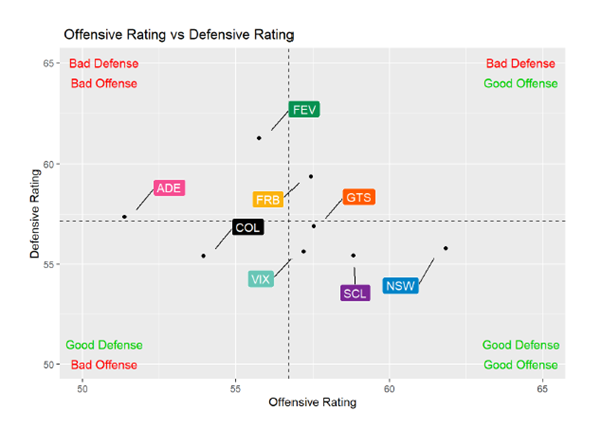 Elo Ratings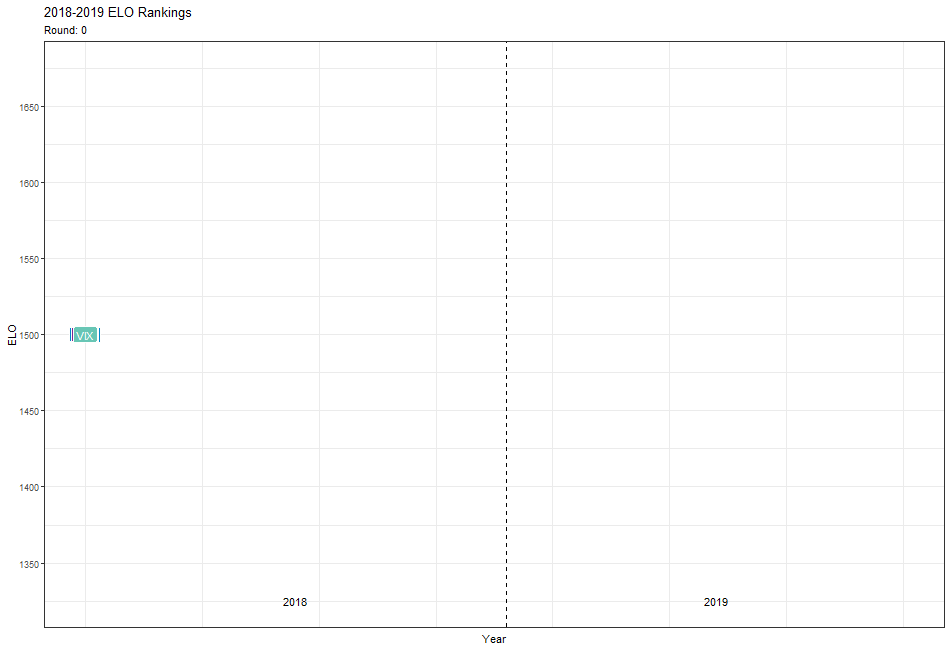 The ELO model shows a team strength and updates after each game, previously used to rank chess players. We can use it to rank netball teams as it takes into accont the strength of opposition you have versed. By visualising it as an animated GIF, we get a picture of how teams progress throughout the year/seasons. We use ELO ratings for other analysis to account for opposition strength.
What advice would you give to aspiring sport scientists and analysts coming into the industry now given the current environment?
With the current lull in the sporting industry, typical internship and experience may be hard to come by. So look at completing sports analytics projects by grabbing a freely available dataset online and answering a question or problem that interests you. After a few projects, you will have a decent portfolio to use once sports open back up.
Are there certain skills that will become more valuable in the next couple of years and any areas within sports science & analytics that you think could grow in demand?
Pretty obvious that the amount and types of data is constantly growing. So having programming skills that allow you to manipulate, analyse and visualise this data is crucial. There is still certain data sources like ball tracking and quantifying defensive ability that require a lot of manual work to collect, if you don't have optical tracking systems. However, once these data sets become easier to collect, the time that analysts used to use for collecting data will be shifted to analysing it. Therefore, having the skills to merge different datasets and creating analysis that are both impactful and interpretable will be crucial.