This week for 'Your Edge' we take a look at how each team has performed against expectations of the professionals, when we're seeing the most line breaks, Anthony Milford's struggles, and which club has the easiest run home to Round 20.
Against The Spread NRL Ladder
We last looked at spread betting data before Round 3 kicked off in May. Now, we're narrowing it down to the eight rounds we've seen in 2020.
For reference: "Betting trends can offer some fascinating insight into how a team is performing against expectations in the NRL. Bookmakers employ some of the most capable analytical minds and have tools at their disposal that allow them to compile accurate odds and lines. They consistently assess a team's chances with far more accuracy than any fan could ever dream of each week."
With that in mind, and this won't come as a shock given what we've seen over the last six weeks, the Newcastle Knights are the surprise packets of the 2020 NRL season so far. They've failed to cover their pre-match line just twice this season – Round 5 v Storm and Round 7 v Cowboys.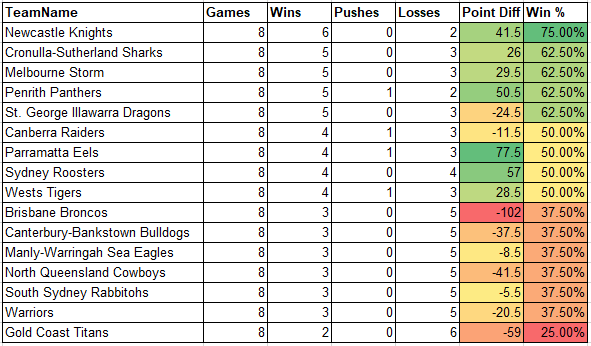 Another non-surprise: The Melbourne Storm sit somewhere towards the top of the ladder. Whether it be an NRL ladder on competition points or win percentage against the spread, Melbourne is always up there.
It's the Cronulla-Sutherland Sharks that raises eyebrows, sandwiched in between Newcastle and Melbourne. They were written off as a finals team by many after starting the season 1-4. However, in keeping close to the Rabbitohs and Storm to cover the spread as underdogs in Round 1 and 2, the Sharks weren't far away from putting it all together and picking up recognised wins. The suspended season stalled their progress as they limped through the first three rounds on returning, but have bounced back to win three on the bounce.
Perhaps the South Sydney Rabbitohs is the next bounce back club? They sit towards the bottom of the ladder on win percentage, but aren't far off when considering their -5.5 points differential. They face a middling Wests Tigers in Round 9
Breaking Down Line Breaks
"Fatigue" is the most popular word in rugby league in 2020. Some people will tell you it barely existed before Round 3 this season. They will also tell you it has now returned and brought "the little man" back with it.
While it's early days and teams are yet to find the innovative ways to combat the new rules that we know they will, the proportion of line breaks split across ten-minute blocks makes for interesting reading.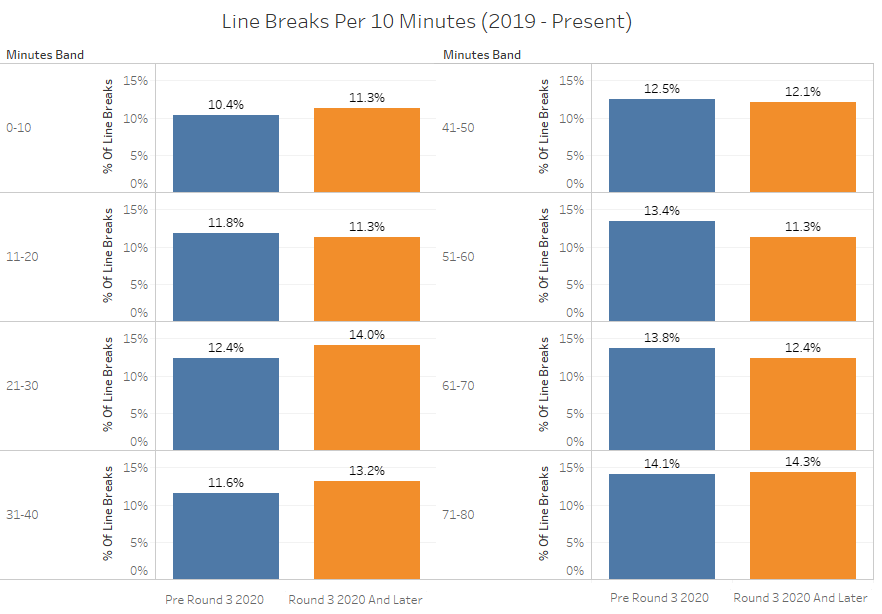 Despite it being the period you would assume defences are at their most-rested, we're seeing more line breaks in the first 40 minutes now than we did before the introduction of the six-again rule. We're then seeing fewer line breaks in each ten-minute period from halftime through to the 70th minute while there is only a 0.2% change through to fulltime.
The rise throughout minutes 21-30 jumps out. It's the period tiring middle forwards are being replaced and appears to be the most fruitful time for line breakers to ply their trade. But even as a sceptic to the NRL's burning desire for promoting fatigue and its assumed translation into better football, the percentage decrease in line breaks throughout the final quarter of a match is surprising.
It has only been six weeks so a lot can change before the end of the season. Nonetheless, the current numbers are sure to surprise a few of the little man's biggest fans.
Milford Running On Empty
Halves are often the scapegoats of any struggling NRL team. We've seen it already with Shaun Johnson and George Williams this season, and now the spotlight is on Anthony Milford. However, unlike the previous two targets that played decent enough footy despite the team performing poorly overall, Milford hasn't looked good – at all.
As ball-in-play times increase and counting stats in general trend the same way, Milford's struggles become clearer. He's always playing his best when running the football. When analysts throw out cliche's like "play what's in front of you" and "eyes-up footy", they're thinking about an in-form Milford. However, as the average running metres per game of five-eighths and halfbacks jumps from 67.3 metres to 73.7 metres per game, Milford is producing a career-low 77 metres per game through eight games in 2020. It's a significant decrease from his 102.3 metres in 2019.
Now, that does have a lot to do with the Broncos ranking 16th in possession with only 45.3% per game. Milford is only touching the ball 30.5 times per game in 2020 compared with 46.2 touches in 2019. As far as opportunities go, Milford isn't getting many.
The Broncos must take two points home against the Bulldogs on Saturday evening. Heads will roll if they don't beat the bottom-placed team that is averaging just 10 points per game this season. Will Milford demand more of the ball in an attempt to inspire an improvement from his side, or will he stick to a game plan, that right now, is putting a handbrake on his best weapon?
Strength Of Schedule
Remember when we began to let ourselves think the Sydney Roosters might not be so good this year after losing in Round 1 and 2? Nick Politis was worried enough to demand the NRL restart the competition ladder when the season resumed in May.
Well, they then won five in a row before losing a golden point thriller to an excellent Melbourne Storm side and now have the easiest schedule over the next month of footy. It doesn't seem fair, does it?

When looking at the remainder of the season as a whole, the Wests Tigers and their longest finals drought of all 16 teams looks set to continue as they try to hang on to their spot in the Top 8 with the toughest schedule. Meanwhile, it seems like nothing comes easy for the Warriors at the moment with the embattled club still facing the second-toughest schedule in the competition before returning to New Zealand.