This week for 'Your Edge', we take a look at some of the standout big-minute forwards taking over the middle third of the field, why the Knights need to make an adjustment and which clubs have struggled and succeeded against Top 8 opponents. As usual, we wrap things up by checking in on the strength of schedule ratings for the upcoming month and remainder of the season.
Middle Forwards Maximising Minutes
Last week we looked at low-minute impact performances off the bench after Royce Hunt ran for 207 metres in just 28 minutes. He became the third player since 2008 to cross the 200-metre mark off the bench while playing fewer than 30 minutes. So this week, we're taking a look at some of the big-minute performances by middle forwards this season. Despite more of the ball in play and the added focus on fatigue, props and locks are averaging more minutes per game overall than before the introduction of the six-again rule.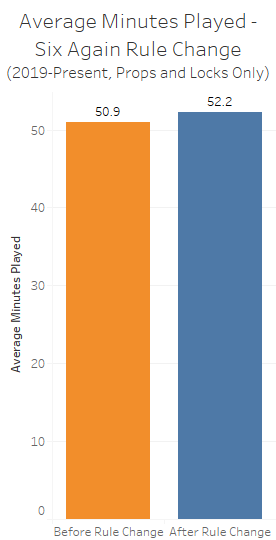 With a bigger motor in the middle now more valuable than ever, some different names are producing standout performances and elevating themselves toward elite forward status in 2020.
The first that jumps out is Reagan Campbell-Gillard. He ran for a monster 297 metres while playing the full 80 minutes against the Sea Eagles in Round 10. It's a performance that highlights his improvements over the last 12 months. He averaged 47 minutes throughout a lacklustre 2019 season in which the Penrith Panthers decided to move him on by the end of it.
Now with the Parramatta Eels, the 27-year-old has recaptured the sort of form that saw him play State of Origin footy in 2018. Averaging 58 minutes per game in 2020, Campbell-Gillard has upped his yardage from 107 metres to 185 metres per game.
Campbell-Gillard's teammate, Nathan Brown, is having his name thrown into a few State of Origin conversations too. He's averaging 150 metres in 59 minutes per game throughout 2020. It's the third time in his career he's averaged over 150 metres per game. However, he averaged 68 minutes (2018) and 67 minutes (2017) to get there previously. Brown has made a career out of being physical and only travelling in one direction at one speed, but less is proving more for the Parramatta workhorse.
Less of a surprise and more a matter of appreciation, the increase in pace and promotion of fatigue in the game hasn't taken anything away from Jason Taumalolo's power game. He's cracked the 290 metre mark twice since the introduction of the six-again rule, and only needed 60 and 70 minutes to do it. His 225 metres and 66 minutes per game in 2020 continue to defy belief.
Newcastle's New Balancing Act
The Newcastle Knights have managed to snare Blake Green away from the Warriors for the remainder of the 2020 season. It's a positive move for the Knights on the face of it. Green is an experienced player with a superior short kicking game to anybody else in the team right now, and will have no issues picking up structures and systems relatively quickly. However, there is one aspect of his game that works directly against his halves partner, Mitchell Pearce.
Pearce and Green make up two of the top three players in the NRL in the proportion of total team receipts in 2020 amongst halves that have played 11 or more of the 12 games. Green averages 53 receipts per game while Pearce averages 62 receipts per game. Nathan Cleary is the only non-hooker averaging more touches per game than Pearce in 2020. Kurt Mann, on the other hand, has averaged just 26.8 receipts per game in those he has spent predominantly at five-eighth.
Pearce is a high-usage player even if he's not trying to be particularly effective while Green acts as steady hand by taking possession to bring calm to a set. Given Newcastle's issues at hooker, adding Green to the side and moving Mann to dummy half is likely to be a net positive against the Green-less alternative. But it may take time for the new pair to gain an on-field understanding. It will be interesting to keep an eye on the distribution of team touches between two high-usage players over the coming weeks.
NRL Ladder: Record v Top & Bottom 8
Plenty is made over a club's draw and how many of the top teams they are forced to play throughout the year. No matter how even the NRL tries to make it, there are always a few surprises that skew the draw in a positive direction for one team and a negative direction for another. But with 12 rounds played and the Top 8 starting to take shape, we can get an idea of the clubs that have had it easiest. It also gives us an idea of those that might look better on the ladder than their level of play on the field suggests.
Three teams standout as notable talking points.
First of all, the Cronulla-Sutherland Sharks. They have won six of their last seven games to shoot up to 6th on the NRL ladder, however, their improvement in play has been aided by a rather friendly draw. They've only played three games against teams currently in the Top 8 all season and they've lost all three. Against teams in the Bottom 8, on the other hand, the Sharks have taken their opportunities to win seven from nine. While they've made significant improvements since a rough start and Shaun Johnson is putting forward a case for Dally M, we're yet to see the Sharks do it consistently against top tier teams.
Similarly, the Parramatta Eels have been blessed by their schedule with just four games against Top 8 teams so far this season. But unlike the Sharks, Brad Arthur's men have been able to strengthen their premiership credentials by beating three of the four finals-bound teams.
Meanwhile, the Melbourne Storm continue to show their quality. They've played more games against the current Top 8 than any other club while taking 12 of the possible 16 competition points in the process. At the other end, they're looking for their 22nd consecutive win over teams in the bottom four when they take on the Bulldogs in Round 13.
Strength of Schedule
In further good news for the Sharks, their favourable draw so far doesn't come with a horror run to end the season. They're a very good chance of playing beyond Round 20 at this point. The Eels, on the other hand, do face a tougher run home than any other current Top 8 team starting with the Sharks on Sunday and followed by Dragons, Storm, Rabbitohs, Warriors, Panthers, Broncos and Tigers.
We made reference to the New Zealand Warriors and wooden spoon watch last week. Their win over the Wests Tigers has put some distance between themselves and the Bulldogs at 16th. The result is a nightmare for the Tigers, though. On the outside and looking in at the Top 8 and currently weathering the longest finals drought of all 16 teams, their remaining schedule is far and away the most difficult in the competition.