One of the most common trends in T20 cricket is for teams to open the batting with a right and a left hand batsman.  It ensures the opposition bowlers constantly have to change their lines and lengths on a constant basis providing the batting side a perceived advantage.  
Most of the IPL franchises in 2021 have adopted a similar approach. But does a left and right hand combination at the top provide significant advantage in terms of numbers?
In the first stage of the IPL there were 56 innings on which 37 times a team opted for a left and right hand combination.  On the other 19 occasions both the batsman were right handed.  The batting averages for the different batting partnerships weren't too dissimilar. 

The numbers also indicate how dominant and vital opening partnerships were in IPL2021. The average opening partnership in the current season of IPL is 43, the highest amongst any wicket. The chance of the openers adding over 40 remains extremely high.
Opening partnerships are vital to success in the IPL 2021
The opening batsmen have the ability to not only set-up the innings but also take the game away from the opposition during the power-play.  Which team has the best openers and does a healthy opening partnership dictate some success?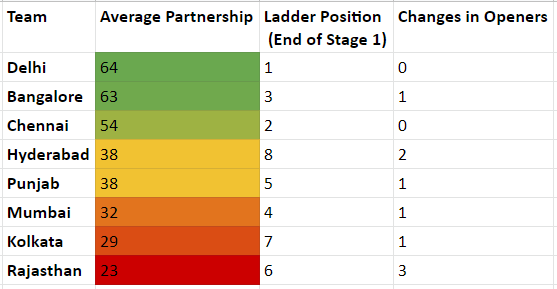 It comes as no surprise the teams with the highest average opening partnership are respectively 1, 2 & 3 on the ladder. Plus a team like Rajasthan that had an unsettled opening pair had the lowest batting average.
David Warner
For the first time in his long illustrious IPL career David Warner was dropped from the playing XI at the end of stage 1 of IPL2021. There have rumours of a rift between the coaches and the owners in regarding to Warner's place in XI, but has Warner batting really dipped so far?
Compare Warner's numbers from the previous three IPL's and it is clear his strike-rate has been dipped dramatically this season.  Also the number of boundaries Warner has hit has been reducing per season as reflected by his boundaries hit compared to the balls faced ratio.

Apart from a lower strike-rate Warner has been able to score runs at a decent average but it is worth nothing his most productive innings in this IPL season have come when he has not had to face a spinner early in his innings.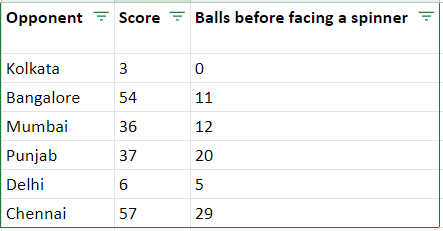 The absence of John Bairstow from the second stage of the IPL should mean Warner gets a long run as an opener. It will be interesting to see if he is willing to take more risks and hits more boundaries. Warner's form is pivotal for Australia in the WT20 next month.